And why do my ads not have the correct padding?
Ad preloader
Following the recent Google policies & requirements, Venatus is proactively making changes to ensure compliance. For this reason, you will notice changes in the way our ads render, most notably, the addition of an ad preloader. The ad preloader will reduce the CLS (Cumulative Layout Shift) score across our sites which will in turn help reduce click spam and therefore, improve revenues over time. Details and specifics of the CLS metric can be found here.


How does a preloader work?
A preloader reserves the space for an ad so that any delay in rendering won't cause the page to "jump". It always reserves the largest size enabled on the placement and centres any smaller creative that renders into this position
Example: A top billboard can have 3 sizes enabled (970x250; 728x80 and 970x90), a Preloader will reserve the space for the biggest ad placement which is 970x250.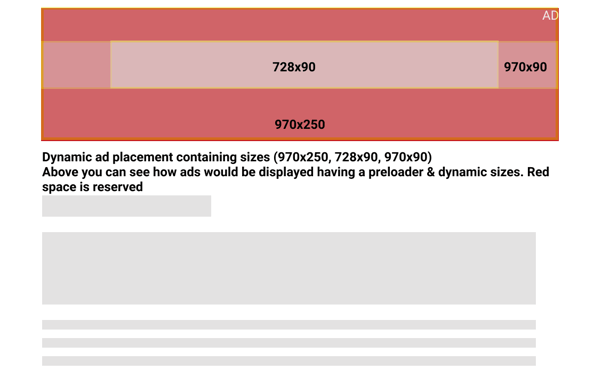 How to activate it?
An ad preloader is the default setting on all our inventory. No additional implementation is needed by the publisher.
What to expect?
The ad preloader, in conjunction with other measures to increase ad viewability, may result in a temporary dip in revenues as we implement these changes.
Our testing over the last few months has shown that the benefits of ad preloaders e.g increased viewability and reduced click spam, leads to a significant rise in eCPM due to a much higher demand for quality inventory.